Summer fun is heating up. Cool down at Rainbow Roller Rink! We're a family entertainment center with roller-skating, a Bounce Zone, and an arcade, so kids can play all day without getting bored. What's the best part? Our facilities are air conditioned so you won't need to worry about overheating or getting sunburned! If you're ready for a fresh, fun summer field trip, book a group event at Rainbow Roller Rink.
Summer Skating for Groups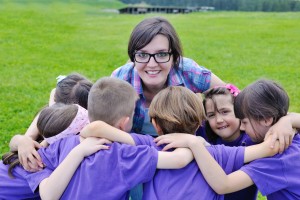 Do you want an excursion that's as much fun for the counselors as it is for the kids? Roller-skating is a great activity for summer camps, daycare centers, church groups and VBS classes, sports teams, and year-round schools. Break out of the ordinary, day-to-day routine with a fun adventure that will keep the kids moving, laughing, and making lifelong memories. We have a variety of field trips, private events, and fundraiser options for summer skating groups.
Private party

: 2 hours of fun for 150 guests. Perfect for big kids' summer camps in North Tonawanda.

Field trip

: Just $6 per student, rentals included! Teach the kids about the science of motion, the

health benefits of roller-skating

, and more.

Fundraiser

: Here's how it works: you advertise the event, your guests pay to skate, and we give you a $2 rebate for every admission. It's a risk-free fundraiser that's fun for all!

Late night party

: Great for child or adult groups, late night parties are available Saturday nights from 10:30 pm to 1:30 am. Treat campers to a not-quite-all-night lock-in to cap off a great week!

Private birthday bash

: Are you celebrating a special event? Don't skimp on the guest list. Invite up to 50 skaters (with an optional add-on of 10 extra guests) for an epic bash that includes pizza and drinks, discount coupons, skating and rentals, and more add-on options than you could possibly need.
Call Rainbow Roller Rink today to book your summer group event.