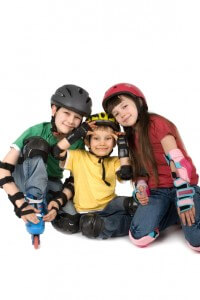 Roller skating is a ton of fun and has been keeping people of all ages entertained and in shape for almost 100 years! However, it does have a bit of a learning curve. Once you get the hang of it, though, you'll understand what the craze is all about.
Luckily, learning to skate is pretty easy and with a little practice, you could be zipping around the rink with the best of them. Check out these tips for learning how to skate and then come check us out in person at Rainbow Roller Rink in Tonawanda!
Safety First!
Learning to skate is not dangerous as long as you wear the proper safety equipment. When looking for the right safety equipment, you want to find pads for your knees and elbow that are thin but also durable. You can check out our pro shop for pads, helmets, skates and more.
Learn On an Even Surface
Learning to skate at the rink is the best way to get the knack. At Rainbow, our floor is smooth, level and free of debris. Skating outdoors can be a lot of fun, but if you're just starting out, one tiny little pebble can ruin your whole day.
Stay Loose and Bend Your Knees
A common mistake with new skaters is the tendency to lock up the knees. You want to make sure you keep your hips loose and your knees slightly bent. This will help with maintaining balance and proper posture while you start to feel out the fun of roller skating.
Remember to Use Your Arms
Skating is a full-body exercise. To get going, you're going to need to use your arms almost as much as your legs. Once you're ready to push off from the wall, make sure to swing the opposite arm from the leg that is pushing your skates and keep them in sync with each push.
So now that you know the basics, what are you waiting for? It's time to have some fun!