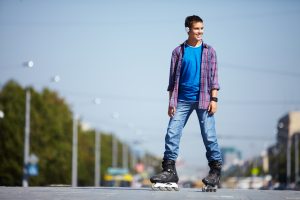 If you've never skated before, you're probably wondering whether you need quad skates or inline skates. This is a common dilemma for beginners, but there's no need to fret! The team at Rainbow Roller Rink has put together information on these two skates.
Check out the details of both types of skates, then come to the rink for hours of fun:
All the Quad Skate Details
Quad skates have four wheels, two wheels in the front and two wheels in the back. These skates are often the first choice for beginners, as they provide more stability and balance. If you're a roller skate beginner or have trouble with balance, try mastering quad skates before moving onto inline skates. Being able to successfully skate using "four-wheelers" will sharpen basic skills needed for inline skates. If you choose to wear quad skates at Rainbow Roller Rink, you're in good company … most of our skaters are on their four wheels playing fun games at our rink!
The Run Down on Inline Skates
Inline skates, commonly referred to as rollerblades, are the most common choice for outdoor skating. If you're searching for a skate that will enable you to ride with speed, you'll want to wear roller blades. Their design enhances your ability to speed skate. (That's why they're so popular in roller sports like roller hockey and roller derby.) Additionally, their maneuverability is off the charts and you can turn sharp corners with ease.
Whether your skate of choice is quad or inline, practicing at Rainbow Roller Rink will sharpen your skills. Check out our hours, then skate with us today!