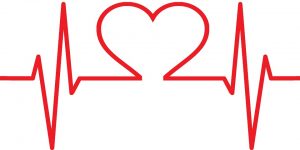 Candy hearts are not the only important hearts in February, because it's also American Heart Month!
According to the Centers for Disease Control and Prevention, 610,000 people die from heart disease each year in the United States. This means that heart disease accounts for roughly 25% of all death in the U.S. What's more is that 735,000 Americans have a heart attack each year.
Thankfully, there are ways to reduce your risk of heart disease:
Exercise

– The best thing you can do for your heart is a good aerobic workout, and skating is fun and a surprisingly good workout!
De-Stress

– The aerobic aspect of skating isn't the only heart-healthy benefit. Engaging in a fun, active activity can also be a good way to blow off some steam and de-stress. Making time for activities that bring you joy is important in managing stress, and we could all stand to be more active.

Find a Rewarding Exercise – It's easy to use eating, drinking, or Netflix binging to reward yourself for an accomplishment or comfort yourself after a hard day, but if you can find a physical activity you truly love — whether it's roller skating, rock climbing, or dancing — you'll be better off.
So this February, start a new habit for the sake of your heart by giving skating a try! Our skating center has lots of great upcoming North Tonawanda special events to keep things interested, so check out our hours make your plans to visit today!