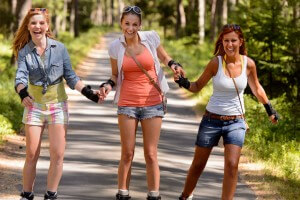 We know what your family is looking for: you want something different from the same old summer activities. Something to switch up your routine. Well at Rainbow Roller Rink in Tonawanda, NY we are giving you just that. We have a number of special events planned this summer that are sure to mix things up a bit.
Skate Park
Located right behind Rainbow Roller Rink is our skate park. The skate park will be open only during our normal hours as long as the weather is good. Please keep in mind that you must bring your own set of wheels to participate.
Children's Skating Classes
If you want your kids to have an easy, healthy place to spend afternoons, they should know the basic skills required to skate. Rainbow Roller Rink wants to help provide your youngsters with those skills. For just $6 our certified skating instructors will teach your kids to roller-skate in a 45 minute session.
Christian Music Night
Our DJ's are known for playing some of the hottest tracks of the year. Join us every Monday night from 5-8pm to skate to your favorite Christian music. This night is great for youth groups or anybody looking to experience a positive skating experience.
Family Deal
The summer season can be a great opportunity for families to spend time together. We're offering a family deal that will give you a space to do just that. Switch it up from your normal game night and come in for a fun-filled family night of skating.
Fiesta Friday
This is certainly an event you will not want to miss. We will offer you the opportunity to skate, only this time it will include FOOD! $12 will cover the costs of admission, skate rental, soda and all you can eat pizza. That's one of the best deals in town.
Make this summer one to remember. You don't want to miss our special events. To reserve space for parties or for general inquiries, contact Rainbow Roller Rink.