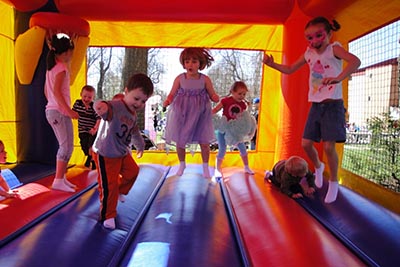 Now that the holidays are officially over and 2020 is in full swing, we already need to go back. Just for a second, we need to talk about a scene in one of our favorite holiday movies. In Four Christmases, there is a scene involving a bounce house and everything not to do in one. Reese Witherspoon, whose character had an incident as a child and has a fear of bounce houses, was tested by her niece, who stole a pregnancy test she was awaiting an answer on. After chasing her niece around the house, the niece escapes into the jump house. Reese's character follows behind and ends up being beaten up by a bunch of eight year-olds.
This whole scene got us thinking. How many movies depict bounce houses as something scary? Well, bounce houses would not be so scary if everyone knew the rules and etiquette! Bounce houses are supposed to be all about fun with friends and not fearful. With these few basics on lock, no one will be scared or intimidated of the bounce house again.
Basics of the Bounce House
Take off your shoes. We try to keep bounce houses as clean and safe as possible. No one wants mud (or a shoe) flying at them in a bounce house.
No sharp objects. This is so important because if the bounce house pops in collapses in on you fast as the air pours out. This won't happen unless you break the rules and bring in something pointy.
Listen to the operator. If there is someone at the door of any bounce house keeping tally of people inside, just listen to him or her. Likewise with any Rainbow Rink employees. Stay smart and listen up!
Wait a little after eating. Jumping up and down on a full stomach can get really messy really quickly.
Wash your hands. You never know if and when germs can be passed in a public space, so make sure to wash your hands before and after jumping in a bounce house so you don't transmit or pick up any unwanted germs.
With these basics on bounce house etiquette in mind, please remember to pass these tidbits along to the smaller versions of you that play in bounce houses. Then put their listening skills to the test with a visit to our bounce zone. The bounce zone at Rainbow Roller Rink is complete with bouncers, mazes, slides, and an obstacle course. Check out our new schedule for 2020 and plan your next family day out.